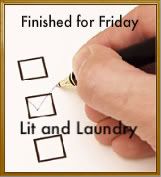 It has been a while since I have posted on
Finished for Friday
hosted by Lit and Laundry. Seems I have been in a blog fog lately; not really knowing what to post, not wanting to take the time it takes to down load the pictures, just a general indifference more or less. Hopefully, that has changed.
I have been a busy busy busy Bea in my studio the last couple of weeks. Christmas is rapidly approaching and I do not want to be racing from the cookie baking in the kitchen to sewing in the studio a couple of weeks before the holiday.
One of my dear friends is expecting her first grandchild, a girl, in December. They are having a shower for the expectant mother this weekend. I was caught off guard by the early date and have not quilted the blanket I have made for the new baby. Quickly, I put together this doll quilt that looks like the baby's blanket with a note to the new momma explaining what it represents. The little matching Teddy Bear came together quickly too.
I also wanted to send something to the grandma to be. This "Grandma Tote" went together quickly. I am very pleased with how it turned out. The fabric is beautiful, feminine but not girly.
This bag is from the
Lazy Girl
line and is called the "Whimsy Bag". If you have been toying with the idea of creating a purse or bag, this is a great one to help you build skills and confidence.
Besides these two projects, I have all the little, tiny pieces cut for a quilting class I will attend on Monday. I am hoping to show you the progress on that quilt next week. Tomorrow I am on my way to Clarksville, VA to attend a class on machine quilting. Maybe I will have that baby quilt finished by next week too.
I hope you have a productive week so you can show us what you have Finished for Friday.