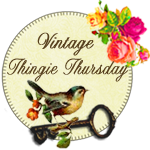 It is time for another Vintage Thingie Thursday. If you like vintage, antique or retro you will love seeing what others have to share this week at Suzanne's
Coloradolady
.

If you have been around VTT for a while, you know of my collection of bees. You can see that collection

here

and

here

.

Christmas brought many items to add to my collection. It seemed there was a theme. I received all these honey pots.


I love the green of this one.

This one would not hold much honey.

My mom sent me this one. She found it at a garage sale for ten cents. It did not bother me a bit that she found my Christmas present at a garage sale. It is the only one that has a dipper with it.


This one has to be my favorite. Look at the crazing on it. Yes, it has been cracked, but that just adds to its charm. It does not have a dipper but a ceramic spoon.


To see other vintage things, click on the Vintage Thingie Thursday button at the top of this post.