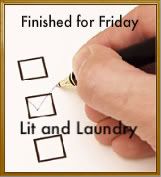 This apron was started back in May. It was not a difficult pattern, but it seemed like things kept going wrong. And of course, sometimes life gets in the way...

This apron is a size small so it does not quite cover my ample waist.



The ties on this apron are really long. I should have altered them, but it was to the point I just wanted to get it off my WIP list.


What have you finished this week? Let us know at Lit and Laundry. Check out what others have accomplished this week.