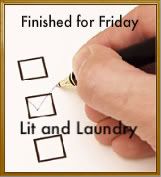 Remember this room?

Now it looks like this.

This is really Hubs' finish. He took off the baseboards and added more electric outlets so this room would have more than just one. He patched, scraped, sanded, primed and painted. I had the easy job of rolling on the wall color which is Sherwin Williams Certain Peach and the ceiling is Peach Blossom. It is not as pink as the picture shows.
The bare light bulb has been replaced with a lighted ceiling fan. The bed is in place. I have to order the comforter. We are working on some old furniture this week. Hopefully there will be a little more to reveal next week.
See the pink suitcase? This is a piece that we made for the youngest daughter's room. It is a vintage suitcase that we attached to the legs of a director's chair. I want to use it in the new guest room, but NOT in pink.
I thought it would great in off white. It was a little too stark so I thought I would give it a little age with some thinned paint. That looked so bad I did not even take a picture of it.
After another trip to Lowe's, I spray painted it green. Again, I tried to age it with some thinned brown paint but it looked horrible. So with the last bit of paint left in the can, I am calling this a finish.
Usually I decorate our front porch for the holiday. Since we still do not have a front porch, I thought the red, white and blue would look good on the garden fence.
God Bless America. Hope you have a safe and enjoyable Independence Day.
Finished for Friday is hosted my Three Under Two at
Lit and Laundry
. Tell us what you have finished this week?