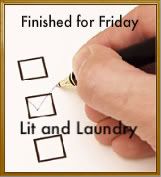 Brr! I hope you are staying warm. This has been a good week to stay inside.
Hubs and I have managed to get the Christmas tree undressed and to the curb. I have also managed to get a few of the other Christmas decorations piled in the dining room, but seem to be in no hurry to get all the decorations gathered and repacked. There is next week...
I have been enjoying time at the sewing machine. This week I have been working on a couple of handbags to display at my friend's quilt shop. This pink bag is too cute! It would be a great little Valentine's gift. The grommets are plastic drapery grommets and they were so easy to use.
The other bag is an X bag; so named because of the way it forms an X when it is put together. This is the fourth X bag I've made as I did three others for Christmas.
What have you accomplished this first week of 2010? Join threeundertwo at

Lit and Literature

and tell us.