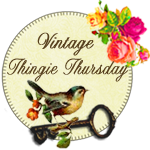 It has been such a long time since I joined all my vintage loving friends at VTT. It is good to be back.

My mom lovingly packed this sweet grinder in a box she sent for Christmas. It was her Aunt Grace's. She knew I would love it and take care of it.

I have never seen one with a top like this. Be sure to click on the photos so you can get a better look.


After grinding your spices, you can use the top to measure the amount needed for your recipe.


After you measure your spice, you can open the top to make pouring easier.


Want to see more vintage, retro or antiques? Check out what all my friends are sharing at Suzanne's place, Coloradolady.