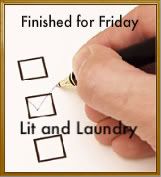 My lovely neighbor, Anne, turned 87 in mid July. She and her husband, George, have been so wonderful to us since we moved to this new town in a new state. I love sitting on their front porch listening to the stories they have to tell.

Anne always says, "If I knew I was going to live this long...", she would have redone the kitchen or painted the living room. And then she looks at George and knows he would never have let go of the money to do these things. They are the funniest old couple.

Another thing Anne says she would have done different is made sure she had not given away all of her aprons. She has one apron that she wears all the time. It has been worn and washed thin. She always makes a comment about its ratty state every time I visit with her in her kitchen.

My intention was to give this to her for her birthday. I missed that deadline. After finishing it yesterday afternoon, I took it to her. She was thrilled to have a new apron, made especially for her. Here she is standing on her front porch wearing her new apron.


Here is a close up the apron. It is a simple cafe apron. Anne liked that there were no gathers at the waist as "they get so dirty". She can hardly wait to have company so she can wear her new apron.


Finished for Friday is hosted by ThreeUnderTwo at Lit and Laundry. Click

here

to see what others have finished this week. Tell us what you have accomplished.