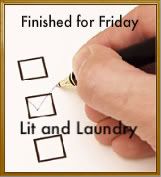 Work continues on our second guest room. It is getting there.

This week's finish is another collaborative effort with Hubs. See the two end tables underneath the picture? We got those at an auction several years ago. They were white when we bought them. I painted them brown last spring to go in the other guest room but I did not like them so I shoved them in the corner of the "storage" room.


The newest guest room is decorated in shabby chic. After giving them two coats of green paint and two coats of white paint, I sanded them down to give them a distressed look. Then I wiped on and wiped off some watered down brown paint. A couple of coats of poly and new drawer pulls and they were ready to place next to the bed and beside a chair.


This dresser was purchased at an auction for a couple months ago for $25. We added new drawer pulls and a wooden medallion on each drawer. It was painted the same as the end tables.


This is the end product.


Make sure you go to

Lit and Laundry

to see what others have finished this week. Tell us what you have accomplished.