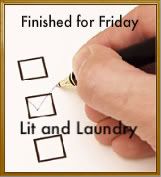 The vacation count down clock on the left is down to the last few hours. There are a few more things to pack in the morning, then we are off to Emerald Isle, NC, for a week. We have been looking forward to this for a long time.

This will be the view from my bedroom for the next week.


I am hoping to post a couple times while we are on vacation, but our two grandsons will be there as will most of our adult children. They will keep me busy and happy.

Let others know what you have accomplished this week. Finished for Friday is hosted by

Lit and Laundry.