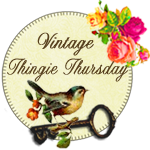 There are a lot of you out there that are going to be green with envy this week because I am sharing some of my green handled kitchen utensils.
Let's see what is inside this enamel ware basin.
Mashers and a whip

A can opener, spoon and pancake turner.
I know you linen lovers noticed the lovely vintage tablecloth underneath all the green handled items. This baby soft cotton is printed with red and yellow fruits and flowers surrounded by a border of aqua leaves.
You have got to go see what everyone else is showing this week at Coloradolady! There are some awesome antique, vintage and retro items being shown off. Click
here
to get started.