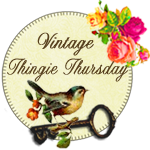 When I was ten year old, my mom sat me down at her sewing machine, a Singer treadle. I learned to sew on that machine sewing the seams of shorts and shirts for my sister and myself. Since then, I have had a soft spot for Singer sewing machines. The machine I use today is a Singer I bought twenty five years ago.
When I was asked if I would be interested in purchasing this Singer, I couldn't resist. It is a Singer Touch and Sew Zig Zag Model 758. The cabinet is in excellent condition as is its matching bench.
Here she is a little closer.
Look what is under her "hood! Cams! She does more than just straight stitch and zig zag.
This is the accessory box that came with her. There are six presser feet including a general purpose foot, a straight stitch foot, a special purpose foot for ornamental stitching, a zipper foot, a button foot and a buttonhole foot. Also included are four throat plates. One for general purpose, a straight stitch plate, a chainstitch plate and a feed cover plate.
Look at all of those cams! There are nine fashion discs, the black ones. Place one of these on the disc holder to produce such stitches as an arrowhead, diamond, crescent, ball, domino and pyramid stitch. The white discs are "flexi-stitch" discs and include a feather stitch, duck stitch (It looks like little ducks swimming in a row.), Turkish hemstitch, star stitch, sunburst stitch and an overedge stretch stitch.
The seat comes off of the bench to reveal storage space.
Inside the bench I found the instruction manual in pristine condition.
And I found this! The sales receipt. It is dated May 17, 1950. At that time this entire set up cost $212. That was a lot of money back then. No wonder my mom was still using a treadle machine in the late 60's.
I know you are dying to know if she still works. Yes! I have given her a good cleaning and some oil. I am still trying to figure out the discs and have only managed to get a crescent stitch from her but have not had time to play with her much since.
Why don't you head over to Suzanne's and see what other vintage, retro and antique things others are sharing? Click here to take you there...