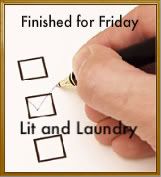 Things are all a buzz here at the hive. Lots of things going on and lots of things comi
ng up that have kept hubby and I busy.


This week I have completed alterations to a bed skirt of a friend of one of the daughte
rs. Tracy asked me to take two twin size bed skirts she got when Linens and Things was going out of business and make them fit her full size bed. I am embarrassed to say she gave me this task before Christmas. But I told her I wouldn't be able to get to it until after the holidays. Then there was the HVAC installation that had the entire house in chaos. And the redo of my studio. So this has been the first opportunity I've had. Glad to get it finished.
Speaking of studio redo...I have a pink office chair I use at my desk or one of the sewing machines. Pink was not part of the new decor, so with some spray paint for plastic and a bit of fabric, I made a seat and back cover to go with the new decor this week. Not bad since I had to design the covers myself.
I've had a rag quilt and an apron I made for one of the daughters laying around for a couple of weeks. Finally got those packed and shipped. Check out the rubber gloves and pot scrubber I found to match the apron.
Another project I have been working on and finally completed was painting an expandable cup rack to hang in my studio. After the first two coats of spray paint, I realized I probably should have used a primer first. It took THREE cans of spray paint.
Cross off "contact caterer" on the wedding reception planning list. Got that done today.


Oh, and I finished the last of the chocolate sheet cake I made on Tuesday.


Finished for Friday is hosted by Lit and Laundry. See what others have accomplished this week.