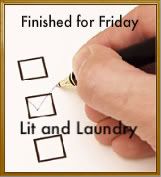 Finished for Friday is hosted every week by
Lit and Laundry
. Check out what she finished this week. Awesome!
Speaking of laundry...Our washing machine died last Tuesday. Not something unexpected as our repair guy told us almost two years ago that it was going to need replacing. After a week without a washing machine, down to his last pair of socks and undies, with threats of having to go to the laundromat with me ringing in his hearing aids, Hubs purchased my dream washer and dryer.
After delivery of the Dream Machines (which you can see in the background) on Tuesday morning, I set about doing all this laundry. Then on Wednesday, I stripped our bed and the guest bed down to the mattresses and washed all the bedding. All the winter blankets are now clean and stored away until next fall. I also had a basket of bedspreads and comforters sitting in a corner since sometime before Christmas because my old washer was too small for them. Now they too are clean and stored away. I think Hubs and all the dogs are afraid to stand still as they may end up in the washer/dryer. LOL!

One of our daughters and her husband came for a visit. They arrived last Tuesday. Laura left last Thursday while Tommy stayed on until Wednesday of this week. During that time, it seems like all I got done was cooking, baking and doing dishes. But it was nice to have them here. Hubs and I get tired of looking at each other.

While visiting with the kids in the evening or watching basketball all weekend, I got all this t-shirt yarn rolled. Now I'm ready to start crocheting a rug for my studio with these forty six balls of fabric.
I also crocheted two of these kitchen sets. The other set was included in a gift bag I sent home with Tommy for his mom
.
Now that spring is in full bloom here, I located the hummingbird feeders. They were cleaned, filled and hung in anticipation of the arrival of these amazing creatures.
Why do the littlest of tasks often times go undone for so long? I painted this rabbit and welcome sign in 2003. All that needed to be done was attach the cup hooks and chains. Fifteen minutes of work for Hubs. But now it is Finished for Friday and hanging on our back porch.
Have a good weekend!