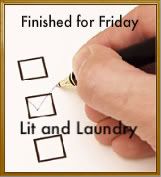 It's been a "slow" week around here due to a dreadful allergy attack but I'm better now. Well enough to chase around our 19 month old grandson for the weekend.
This week, I finished up the embroidery pieces for two more needle cases. Since the entire project is not complete, I'll wait until next week to share those. Pictures of the needle case I have finished can be seen

here

.
Youngest daughter and her husband's renewal of their wedding vows and reception is rapidly approaching. I got several things scratched off that list this week. Must finalize plans with the florist today.
When I'm sewing or working on a crafting project, there is nothing more frustrating than having to look around for the tools I need. Even though I gather all the things needed before hand, a lot of time is wasted looking under material or on the desk or on the ironing board or on the sewing table for the scissors or the rotary cutter, the seam gauge or the seam ripper. I started wearing a bib apron with a large pocket across the front so I could easily find these items when I needed them. I loved the pocket, but hated having the fabric of the apron hanging around my knees. Seeing one of our son in laws wearing his carpenter's tool belt while tearing down the front porch gave me an idea.
Here is the "prototype" of my sewing apron. I'm going to wear it for a while to see what I need to fine tune.
I can already tell I am going to have to do something to the widest pocket, the flowered one on this apron, to keep the scissors and rotary cutter from falling to the bottom of the apron. Maybe stitch a seam across the apron just above the narrow, bottom pocket?
I made a matching pin cushion with a velcro loop that can be attached to a side loop sewn into the apron. Since I am right handed, I might want it on the right side?
What have you accomplished this week? Share it with us at

Lit and Laundry

. Make sure to see what others have "Finished for Friday".