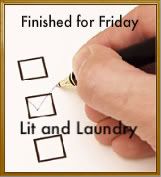 While doing spring cleaning and preparing for guests a couple weeks ago, I spent a lot of time in the upstairs bath. Usually, I only use this room for quick pit stops while working in my studio, so I was appalled at the look under the vanity. UGLY! The entire bathroom is ugly, but as Hubs says, "That's on the list."

See what I mean?
To answer the question, "What do you do with ugly?' Around here, you hide it. With a few yards of fabric, a tension rod and two sash rods, it now looks like this:
Much better, huh? I did as little cutting to the fabric as I could so that *someday* when we redo this bathroom, I can use the fabric to make something else.

I finished this cute apron for a birthday gift to a friend. Which of course, is late! It was my first attempt at machine applique. I thought it turned out pretty cute.
I also finished this apron.
It is one of those fabric panels you can buy that just needs to be cut it out and sewn. I altered it a little bit by stitching the neck pieces together so they slip over your head instead of tie. I also added bias to the raw edges as I thought the fabric weave was too large to not ravel if I just turned it under like the directions said. It has been neatly folded on a shelf in my studio since I stitched it in January. This week, I "Finished for Friday" by sewing on some embellishments. While they can't be seen well in the photo, I added a jingle bell to the hats of one of the snowmen on the bottom and to the one on the pocket at the top. I also added some buttons to a few of the polka dots.

Another project that can be checked "DONE" are these envelope style pillow covers I made for my studio.
They sit in the old rocking chair of Hubs that I never could quite find the right place for in our house. It would get moved from room to room until it finally landed in my studio. When redoing the room, I decided to make it finally belong somewhere and used it as the inspiration to the colors used in this room. The fabric used for these pillows can be found in my window treatments as well as in my fireplace "screen" that can be seen next to the rocker.
Since I know you are wondering... the fireplace screen is a vintage frame I have had for years because I knew someday I would find something to do with it. It was the perfect size to go over the opening of the unusable fireplace. Some foam board cut to fit the frame and covered with fabric created just the piece to hide UGLY once again.
"Finished for Friday"is hosted every week by Lit and Laundry. Click

here

to see what others have accomplished this week.