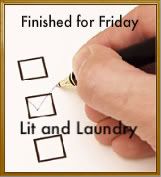 It seems like this week has gone so fast. Maybe I'm just moving a little slower or I've finished a lot of unfinished projects for previous Fridays. This week I only have one item to share for "Finished for Friday".
I finished this needle case and matching pin cushion as a gift for my mother in law for Mother's Day.
Thanks to Threeundertwo, our weekly hostess of "Finished for Friday" for the idea. She shared a needle case she had completed a few weeks ago. That got me to searching the internet for free patterns for them. I couldn't find one that was "just right" so I took bits and pieces of what I liked about ones I found and created this one.
The embroidered flower is on muslin. It was a free pattern I found on the internet then just reduced it to the size I needed. It folds up and closes with a bit of ribbon wrapped around a button.
This is the inside of the needle case.
The "pages" are of felted wool. The left side is for needles and pins. On the right side, I stitched a pocket to hold a pair of small scissors or thread snippers. Then I added three little pockets at the bottom to hold small items such as a thimble, needle threader or a stitch puller.
The matching pin cushion was a pattern I had saved from a weekly craft e-letter I get from
Better Homes and Gardens
. Once I figured out the instructions, it took less than an hour to complete. You can see the pattern and instructions
here
. You may have to sign in as a new member, but it's free and they have some great ideas there.
It was fun putting this together. I am about finished with the one for my mom and will share it with you next week. The prototype of a seamstress apron I have been working on will also be finished. Can't wait to share that with you.
What have you finished this week? Share it with us. Check out what others have finished this week at
"Lit and Laundry"
.