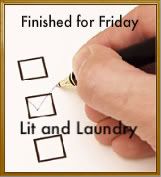 Last week, I set a goal for myself. This room, which needs to be painted and decorated for a second guest room, was going to get decluttered.
How did I do?
I still have some blankets and quilts to reorganize and place in storage. There are family photos we need to decide what to do with. Other than that, it is decluttered.

You know the hardest part of this job? Not digging through all this stuff, but finding a place to put it. If you live in an old home like ours, you know that there are no closets really. In the 3600 square feet of our house, there are four closets totaling forty eight square feet.

So what did I do with all that stuff? There were several boxes of kitchen items that I did not unpack when we first moved because "The Plan" was to remodel the kitchen first. Since that job has been moved way down the list, I unpacked those boxes, washed and washed and washed items then rearranged my six cabinets and three drawers to accommodate the things I wanted to keep.

This pile of things will go into the attic in the garage.


These items will go back in the guest bedroom after it is repainted.


I created this little dining area on our back porch so Hubs and I can dine al fresco occasionally.


The tablecloth was placed on the table to remind Hubs that this is not another surface for things like this:



All the stuff in the next two pictures are marked and ready to go in our yard sale next weekend. To me, that in itself is a big accomplishment as pricing items for a yard sale is a large task.


I feel so much better about this area now that I have all of this *stuff* sorted. Thanks to all my friends that offered encouragement in this endeavor. My friend at Lit and Laundry offered good advice when she told me the saying, "How do you eat an elephant? One bite at a time." Every time I went into that room, I'd tell myself to just take two more bites...



Lit and Laundry

hosts "Finished for Friday". Click over there to see what others have done this week. What have you finished this week?