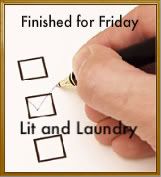 I'm finally posting my Finished for Friday post. It has been a busy, but very productive day.
Here is the results of my decluttering of our upstairs room. I can not tell you how relieved I am to have this job completed. If you did not see the before pictures of this room, you can see them
here
. Trust me, it is not pretty.
Bright and early this morning, I was out laying a lot of the stuff from the before of this room (and more stuff from other places in the house) out in the yard for a sale. Below are pictures I snapped of some of the stuff before people started arriving.
All of my cleaning efforts and yard sale prep netted me $300. Not bad, eh? The sale is to continue tomorrow, but there is not very much stuff left.
As for the *storage* room, Hubs has already started prepping the walls for painting and we are now referring to the room as the second guest bedroom. Some of the money made from the sale will purchase the bedding that will be used in this new room.
Finished for Friday is hosted by Lit and Laundry. Check out what others have finished this week
here
.