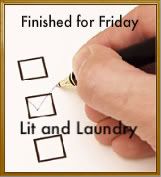 I have been in such a funk this week. Not sure of the reason, but I have not wanted to do anything. I have an apron I am working on, but do not feel like sewing. There is a basket of embroidery sitting beside my chair but I would rather (?) watch reruns or read blogs. I need to get motivated.

This meme is about sharing what you have finished this week.

It is hosted by threeundertwo at Lit and Laundry. You can click

here

to see what more motivated people have accomplished this week. As for me, I am going to take some *artistic liberty* here and share with you my goal for NEXT Friday.
***WARNING***
The following pictures may be disturbing.
Viewer discretion is advised.
This is supposed to be our second guest room. Since we moved into this house almost two years ago, it has been the storage room. There are still boxes in here that need to be unpacked. My collection of vintage mirrors are stashed in one corner waiting to be hung in the now painted center hallway. There are odd pieces of furniture that have yet to find a place in our home. Who knows what else has been thrown in here.

Since my mom and her sister are planning a visit in August, I thought it would be nice for them if they each had their own room. But I have miles and miles to go before this room is ready for any one to inhabit.

By next Friday, I would like every thing out of this room except for the king size water bed frame and draws, a desk and an entertainment center. I know! You can't even see them for all the other *stuff*.

I have a long rope to tie around my waist so Hubs can find me in case I should get lost in this MASSIVE MESS. Wish me luck. I'm going in...