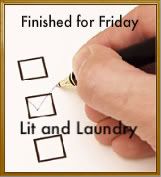 Can it be Friday already? I'm sitting here thinking of all the things I need to get done in the next few days before I head back to Kansas to visit family and friends. And as usual, when I'm stressed, I do nothing or I try to do everything all at once accomplishing nothing.
This week, I finished the needle case and pin cushion I'm giving to my mom for Mother's Day while I am *home*. You can see one similar
here
.
I got several things finalized for Daughter P and SIL A's wedding reception, including finding a dress and shoes.
I've made two trips to the post office to check our new P.O. box for mail only to arrive home and find our mailbox on the house stuffed with mail. What a mess! If it is delivered to our house today, I will make ANOTHER trip to the post office to find out what is happening. If you missed my rant about my *enjoyable* trips to the post office, you can read that
here
.
Back in March, Kelly at
(un)Deniably Domestic
led me to a give away at
Apron Memories
, ElleynAnne Geisel's blog. My entry for this give away can be seen
here
. The random drawing took place today and I am one of the six lucky winners! WOOHOO! You can check out all the goodies I won
here
.
Now I must get busy cutting and sewing ten yards of red gingham fabric into table mats and runners for the wedding reception. The reception's theme is picnic. I ordered black plastic ants to go on the gingham mats for the tables. They should have been here by now but with our messed up mail delivery, who knows where they could be! Makes me want to curse!
Don't forget to visit threeundertwo at
Lit and Laundry
to see what others have accomplished this week. Tell us what you Finished for Friday.